Podcast: Play in new window | Download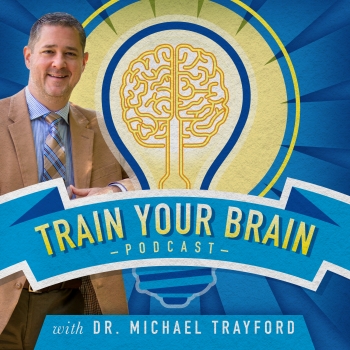 Good morning and welcome to Episode 040 of the Train Your Brain Podcast with Dr. Michael Trayford. Every Monday we produce a 30-minute episode. Tuesday through Sunday we produce episodes with five-minute tips. Every episode of the Train Your Brain Podcast features a tip, so you can receive pointers 365 days a year that will help enhance the performance of your brain!
In Episode 040, Dr. Trayford gives us a brain training tip that will help with sleep. It may be tempting to watch your favorite movies or television programs late into the night, but this is quite unhealthy for us. Not only does it affect our ability to fall asleep, but it also keeps us up late, leaving us unrested the next morning. Listen to today's show to make sure you're getting your best night's sleep. Join us!
If you have any concerns regarding the information and applications discussed in this podcast, please consult your physician and a doctor who is experienced in functional neurology. Michael Trayford DC, DACNB is available for consultation by calling (828) 708-5274. Thanks for listening.
We're going to jump right into this one. We've talked before about, phones, laptops, tablets and other LED emitting light devices in the bedroom. Well under the category of sleep we also want to talk very specifically about removing the television from the bedroom.
Without even having a microphone on the audience I just heard a lot of oohs and ahhs on that one. Because this is a big point of contention for a lot of folks.
How about yourself, do you keep a TV in the bedroom?
Jason: No sir I do not. I spend so much time on my computer outside of the bedroom, that it's really not much better. Because I still don't sleep much.
We'll work on that a little bit.
Removing the television from the bedroom is critical, particularly now, especially with the children, because more and more. You can look at the statistics. They're really staggering when you look at how many hours per day that people are watching television. But also computer time as well.
Kids can be watching anywhere from four to six hours of television per day. That simply blows my mind, because we often think that our children watch too much TV. We just have the basic cable and Netflix set up. So that it's more on demand type things.
And our kids may watch anywhere from a half an hour to an hours worth a day and we think that's a lot. But when you look at the statistics we realize that we're really far ahead of the curve. The challenge is that most of them are getting these hours in the night time when they go to bed and the bedroom as we talked about is for bed.
We want to be able to set up an environment that is conducive to sleeping well. And when you have on a program that is engaging any fiber of brain function, there are going to be challenges with sleep. If you're watching a cliff hanger it's always, "What's going to happen next?"
If you're watching QVC, which a lot of people do the late night binge QVC type thing. I know my mother, and she's not listening to this podcast, but she's one of those. She's gotten better over the years. She has.
When you're doing that kind of thing at night your adrenaline, levels, your cortisol levels, everything starts surging, because of that purchasing experience, that buying experience. So really anything you watch is going to engage your brain at some level. And you don't necessarily want this when you're trying to go to sleep.
For years and years I worked in the restaurant business and you get home, after late hours, flip on the TV in your bedroom and the next thing you know you're up until 4 in the morning watching absolute nonsense.
And you wonder why you feel like garbage the next day and you wake up and can't function well throughout the day and obviously that catches up with you the older you get. I'm 43 now and in my 20's that might have worked, but at this point in my life that would not work.
I've probably been without a TV in my bedroom for just about twenty years. And that's one of the biggest reasons for my ability to go into the bedroom at nine or ten o'clock, fall asleep and wake up at six or seven in the morning. Feeling well rested and often times without any major breaks in that sleep.
You know stress will play in sometimes it's an issue with kids and dogs and all of that. But by removing the TV from the bedroom, was by and large one of the biggest impacts on improving my sleep environment and it can be on yours to.
You should strongly consider taking it out of the bedroom, because there's really no need for it there.
---
Links for this episode:
Click here to learn more about helmets
Learn more at APEX Brain Centers.com
Read the APEX Brain Centers BLOG
Follow us on Facebook
On Google Plus
Follow APEX Brain Centers on Twitter
And here is the Twitter handle for this podcast: @BrainPodcast365
Visit our YouTube Channel