Podcast: Play in new window | Download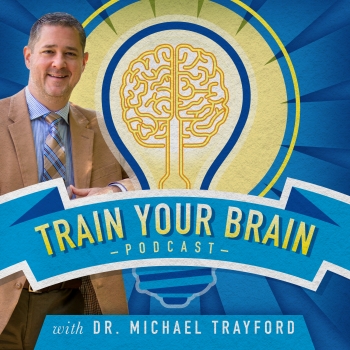 Welcome to Episode 129 of The Train Your Brain Podcast with Dr. Michael Trayford. Every Monday we produce a 30-minute episode. Tuesday through Sunday we produce episodes with five-minute tips. Every episode of the Train Your Brain Podcast features a tip, so you can receive pointers 365 days a year that will help enhance the performance of your brain!
Through the end of February we are having a special contest for Train Your Brain Podcast Listeners to send in their best brain training tip for a chance to win a $25 gift card!
Today Dr. Trayford shares brain training tip 129. This tip is all about strategy. Let's say you have to take a big test or prepare for an important presentation. What would be your strategy to get ready? Would you study a little each day or would you spend the whole night before preparing all at once? Dr. Trayford strongly advises against cramming the night before at the expense of good sleep. You simply won't be able to retain or efficiently use what you've crammed if you didn't get a good night's sleep. As he has explained before, sleep is the time when your brain assimilates what you've learned. We hope this helps! Thanks for listening!
If you have any concerns regarding the information and applications discussed in this podcast, please consult your physician and a doctor who is experienced in functional neurology. Michael Trayford DC, DACNB is available for consultation by calling (828) 708-5274. Thanks for listening. Continue reading →