Podcast: Play in new window | Download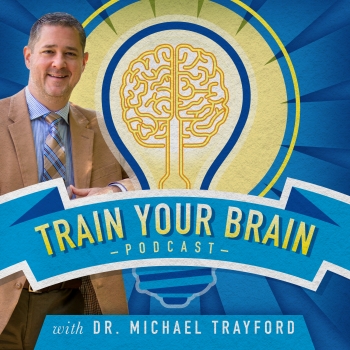 Welcome to Episode 136 of The Train Your Brain Podcast with Dr. Michael Trayford. Every Monday we produce a 30-minute episode. Tuesday through Sunday we produce episodes with five-minute tips. Every episode of the Train Your Brain Podcast features a tip, so you can receive pointers 365 days a year that will help enhance the performance of your brain!
Now through the end of February we are having a special contest for Train Your Brain Podcast Listeners to send in their best brain training tip for a chance to win a $25 gift card!
Today Dr. Trayford shares brain training tip 136. This will make complete sense. When things are getting a little stressful follow the example of the guys who have to stay cool no matter what. This is the technique that SWAT teams utilize and it will serve you, too! Concentrate on keeping your breathing steady and you'll also be able to keep your head about you. Thanks for listening!
If you have any concerns regarding the information and applications discussed in this podcast, please consult your physician and a doctor who is experienced in functional neurology. Michael Trayford DC, DACNB is available for consultation by calling (828) 708-5274. Thanks for listening.
The breathing exercise in this tip is a phenomenal technique, to help you manage stressful situations.
A recent article at livescience.com looked at breathing techniques used by SWAT Teams in high stress situations. SWAT Team members are more well-trained than standard police officers and first responders. They are primarily sent in to handle high stress situations like standoffs and hostage negotiations. They go in to significant situations where their lives are on the line, so they need to be cool, calm and collected.
When you start having extreme stress responses on a regular basis, the brain starts to perform like these people. It might be that your boss isn't happy with you, or your kids are having serious trouble at school. This can trigger strong stress responses that make it difficult to operate effectively in those situations.
It's important that you try to find ways to bring those stress responses down. This starts with bringing your heart rate, breathing pattern and blood pressure down. This breathing exercise uses the 4:4:4 technique.
This basically means inhaling through the nose for four seconds, holding it for four seconds and exhaling out through slightly pursed lips for four seconds. Just a few breathing cycles like this can diffuse your stress levels fairly significantly.
The key is that when you're breathing in, you want to feel the stomach rise, which tells you that you are getting a full inflation of the lungs and you're taking in a good amount of oxygen.
There's no magic number for how many breathing cycles this takes. Most people will find a significant improvement in their stress level in just a few cycles.
You can use this breathing exercise in a lot of different situations. Your boss might be breathing down your neck, or you're stuck in traffic, or your kids are getting under your skin. Even when you're running against deadlines, or technology problems, you need to breathe a little bit.
---
Links for this episode:
Click here to learn more about helmets
Learn more at APEX Brain Centers.com
Read the APEX Brain Centers BLOG
Follow us on Facebook
On Google Plus
Follow APEX Brain Centers on Twitter
And here is the Twitter handle for this podcast: @BrainPodcast365
Visit our YouTube Channel