Podcast: Play in new window | Download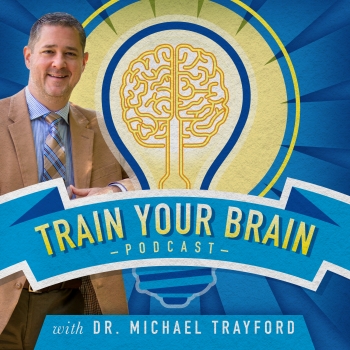 Good morning and welcome to Episode 96 of the Train Your Brain Podcast with Dr. Michael Trayford. Every Monday we produce a 30-minute episode. Tuesday through Sunday we produce episodes with five-minute tips. Every episode of the Train Your Brain Podcast features a tip, so you can receive pointers 365 days a year that will help enhance the performance of your brain!
In Episode 096, Dr. Trayford revisits the very enlightening topic of freeing ourselves from our stuff. This time he is talking about digital stuff. Do you have inboxes that are filled to the brim with e-mails from 2002 and hard drives full of photos that you'll never need? Clear them out! You'll feel so much lighter and your brain will feel lighter, too!
If you have any concerns regarding the information and applications discussed in this podcast, please consult your physician and a doctor who is experienced in functional neurology. Michael Trayford DC, DACNB is available for consultation by calling (828) 708-5274. Thanks for listening.
We've talked in the past about purging physically and decluttering your physical environment. At the same time, we've got to clean our digital space too.
Different professions might call for keeping a large amount of information available or in archives. This tip tends toward the personal information.
Jason: It really is a challenge to keep all of these files. I never thought that digital purging was a good investment in time, but I guess I'm about to get my eyes opened.
The last time I did this I looked at my Hotmail account and I had 6000 emails piling up. In your physical clutter the rule of thumb I use is to get rid of things that are over 3 years old. In a way your brain is holding onto this stuff.
Even when you go through it, you'll start to see some physical and emotional attachment to them. You don't have to get rid of it all, but you can put important things in folders for long term storage. So that you're not looking at them on your desktop.
I think by and large, you'll also find that a lot of the files you've saved, you no longer need.
I actually felt better after cleaning my email out than I did cleaning my closet and my garage.
We get so connected to all this digital information. People have all these pictures on their phones, what are you going to do with those?
Purge the ones you'd really like to keep, put them on a disk or a thumb drive and get them out. It's nice to have things on your phone to show people, but you don't need a thousand image.
E-purging can also apply to social media, people that are no longer active and following you, but you no longer interact with.
---
Links for this episode:
Click here to learn more about helmets
Learn more at APEX Brain Centers.com
Read the APEX Brain Centers BLOG
Follow us on Facebook
On Google Plus
Follow APEX Brain Centers on Twitter
And here is the Twitter handle for this podcast: @BrainPodcast365
Visit our YouTube Channel