Podcast: Play in new window | Download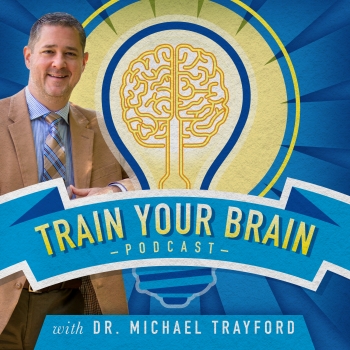 Good morning and welcome to Episode 65 of the Train Your Brain Podcast with Dr. Michael Trayford. Every Monday we produce a 30-minute episode. Tuesday through Sunday we produce episodes with five-minute tips. Every episode of the Train Your Brain Podcast features a tip, so you can receive pointers 365 days a year that will help enhance the performance of your brain!
Today Dr. Trayford shares brain training tip number 65. For anyone concerned with health we have good news: It is actually affordable for people to have their own pulse oximeters in their homes now. You can easily measure the oxygen saturation levels for yourself or your family with a pulse oximeter. This is the device with the red light that nurses will sometimes put on your finger tip. Oxygen and sugar are the two main sources of fuel for the brain, so it is quite important to make sure that you are getting enough oxygen.
A lot of people are unaware of the fact that they can measure their oxygen levels. Consumer level medical technology has advanced to the point that you can measure oxygen saturation, or pulse oximetry at home. You might have noticed a little red thing on someone's finger when you visited them in the hospital. What it's actually doing is measuring the oxygen saturation of their blood in real time.
Years ago these units were priced $400 each. Now they are selling for anywhere between $18 to $50. You can get a really good solid unit for about $25.
You clip it onto your finger and it reads heart rate and oxygen levels. Pulse oximetry is a good way of looking at how much oxygen is being carried in your blood. This is a great way to see how your brain is getting fed on an hourly or daily basis.
Oxygen and sugar are the two main fuels for your brain. 100% is optimal. Most people will float around 98 to 99%. If you attach this little device on your finger and you see an oxygen percentage of 90 or 92% it's not good. Even if your body has gotten used to operating at a lower oxygen saturation level, you should still investigate the cause.
In some people like chronic smokers, that aren't getting the best amount of oxygen circulating in their blood stream, we tend to see oxygen saturation levels around 95%. A bedridden person might be around 90 to 94% oxygen saturation.
Every percentage point can elevate brain function significantly. So we can have people track this on their own and do breathing exercises to help improve and track their own oxygen levels. If you notice that your oxygen levels are dipping low, you can start doing one of the various breathing exercise tips we've discussed earlier.
You can track an important biomarker while demonstrating to yourself that you have absolute control over making your brain work better.
If you have any concerns regarding the information and applications discussed in this podcast, please consult your physician and a doctor who is experienced in functional neurology. Michael Trayford DC, DACNB is available for consultation by calling (828) 708-5274. Thanks for listening.
---
Links for this episode:
Click here to learn more about helmets
Learn more at APEX Brain Centers.com
Read the APEX Brain Centers BLOG
Follow us on Facebook
On Google Plus
Follow APEX Brain Centers on Twitter
And here is the Twitter handle for this podcast: @BrainPodcast365
Visit our YouTube Channel