Podcast: Play in new window | Download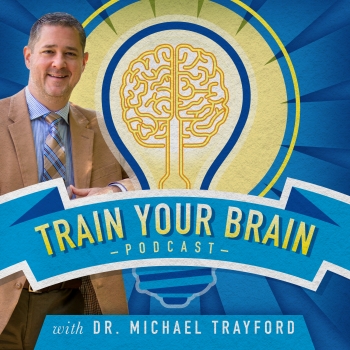 Good morning and welcome to Episode 051 of the Train Your Brain Podcast with Dr. Michael Trayford. Every Monday we produce a 30-minute episode. Tuesday through Sunday we produce episodes with five-minute tips. Every episode of the Train Your Brain Podcast features a tip, so you can receive pointers 365 days a year that will help enhance the performance of your brain!
In Episode 051, Dr. Trayford's brain training tip provides us with a way to manage stress. Some events in life create necessary stress, such as life-threatening situations, but in unnecessarily stressful moments you have complete power to calm yourself, slow your heart rate and ease the intense stress on your mind and body. Listen to learn more.
If you have any concerns regarding the information and applications discussed in this podcast, please consult your physician and a doctor who is experienced in functional neurology. Michael Trayford DC, DACNB is available for consultation by calling (828) 708-5274. Thanks for listening.
Jason: Oh I'm just a little bit stressed Dr. Trayford.
I like the segue. You never seem to be too stressed. Being a native New Yorker, we always seem to have a stressed side to us. Moving so fast, gotta get things done and very little patience.
I know in Utah and here in Asheville there are different levels of stress.
Jason: I know that stress is a killer so I'm always cognizant to avoid getting stressed out as much as possible.
There are people who spiritually, and we'll get involved in techniques and procedures, And routines and rituals that help them manage stress. Other people it could be addiction, heart disease, strokes, family history that brought them to a point where they have to manage their stress, because it's do or die.
Stress management is one of our overarching topics for these tips.
Taking ten calming breaths when stressed might sound very simple. It can be critically important thing for you to recognize when you get stressed. So like other things we've talked about, like taking time to think before responding. The same thing is going on here. You're just sort of separating yourself from the situation to get your self-regulatory systems back in check so that your heart rate, blood pressure and breathing patterns balanced.
We've talked about the autonomic nervous system and the sympathetic and parasympathetic aspect. The sympathetic aspect is the fight or flight response. And parasympathetic, which is the relaxation aspect.
So you have this tug of war between relaxation and fight or flight. With most people the fight or flight aspect is winning.
This reminds me of that Charlie Sheen Winning thing that went on a while ago. Talk about stress.
In most people in this day and age, the sympathetic side is winning the tug of war. As a population we are generally stressed and we need to mitigate that. By simply taking time to just separate. If you get stressed on the road or you have a spat with your spouse or child. You need to diffuse before we react or to save our own lives. Over a long enough period of time prolonged stress will change your physiology, it can lead to heart disease, or in some circles, cancer.
It doesn't need to be a specific exercise, but by simply taking 10 controlled deep breaths, you will be amazed at the difference from when you got stressed and how you feel after those 10 breaths.
You will realize that it's very likely, something you should have gotten stressed out about in the first place. Sure there are things that are worth getting stressed out about. If you get stressed because you were mugged, that's a good reason to feel stressed. If someone cuts you off in traffic… Really I'm from New York, I do get stressed about these things, but really is it something that's going to serve you well to get angry at a person as they drive away.
Jason: I know, but it's so irritating at time.
It is, but it always happens when you've got a mile clear a head of you and they cut you off from the on ramp.
---
Links for this episode:
Click here to learn more about helmets
Learn more at APEX Brain Centers.com
Read the APEX Brain Centers BLOG
Follow us on Facebook
On Google Plus
Follow APEX Brain Centers on Twitter
And here is the Twitter handle for this podcast: @BrainPodcast365
Visit our YouTube Channel