Podcast: Play in new window | Download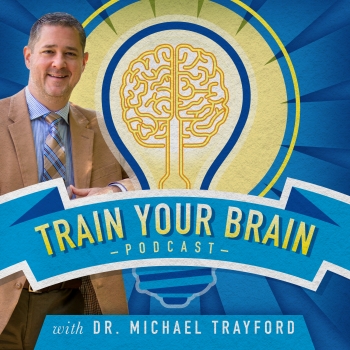 Good morning and welcome to Episode 044 of the Train Your Brain Podcast with Dr. Michael Trayford. Every Monday we produce a 30-minute episode. Tuesday through Sunday we produce episodes with five-minute tips. Every episode of the Train Your Brain Podcast features a tip, so you can receive pointers 365 days a year that will help enhance the performance of your brain!
In Episode 044, Dr. Trayford gives us a brain health tip that can help ensure that we aren't exposed to toxins that will cause inflammation in the brain. Have your ventilation systems checked out for mold. When inhaled, mold negatively affects the hippocampus and immune system. If you have noticed problems with anxiety or memory, this might be something that you want to consider investigating further.
If you have any concerns regarding the information and applications discussed in this podcast, please consult your physician and a doctor who is experienced in functional neurology. Michael Trayford DC, DACNB is available for consultation by calling (828) 708-5274. Thanks for listening.
This tip involves something that some people don't often think about, but it's something that can affect your brain to such a degree that it's almost cripple people and cause their lives to have poor quality.
This is mold.
Do you know about mold?
Jason: yeah it's one of my fears actually. In fact a lot of the things we talk about on these podcasts are perpetuating my paranoid.
We'll need to get into a therapeutic episode soon so you can relieve that stress. I would imagine out in Utah, you don't have too many mold problems because you're much dryer out there.
Jason: Back in West Virginia, where I'm from where it's moist and humid there were a lot of molds.
Well today I want to talk about mold in the ventilation system in your house. If you have HVAC, heating and ventilation, if you're in a humid area where mold exists, it's something to keep an eye out for. Particularly in clay laden areas where you don't get a lot of good drainage.
The water tends to accumulate in crawl spaces. You might think you have a nice clean, sealed system in your house that has you breathing clean air. Even if you have filters in it, mold can get into the ventilation system. You could be perpetuating the mold through your systems. And there are companies who can come out and remediate these types of problems.
The bottom line is that you want to get it looked at. Last November there was research submitted at the annual meeting of the society for neuroscience and there was research from the City University of New York… And they had done studies on mice, where they put spores from a toxic mold into the noses of mice.
When you put it in the nose it gets into the olfactory nerve, which goes directly into the brain. It's the only part of the brain, which goes directly into the body.
After about three weeks of time the mice didn't look any different. What happened was that they were having significant challenges with memory, anxiety and focusing? Then they started to look at their brain and the hippocampus, which has everything to do with learning and it was getting smaller. It wasn't producing new brain cells like it usually does.
The hippocampus is the one part of the brain that has neurogenesis, which is the producing of new nerve cells. So the mold was actually slowing down production of these new nerve cells in the part of the brain that is responsible for developing new ideas and learning.
They were also seeing significant nerve responses in these mice that was causing inflammation in the hippocampus, which was likely decreasing the number of nerve cells being produced.
So this means that mold is producing inflammation in the brain.
We always see folks that wind up having confirmed forms of toxic mold in their house and they often have significant cognitive, behavioral and physiological problems as well. You know you can get into blood pressure problems and autoimmune disorders.
These need to be checked out by qualified people. Just also keep in mind that there is some predatory action going on in this arena. There are people out there that will come in and tell you that you have a type of mold but they also have the solution to that mold as well.
So it's a good idea to look for a referral, rather than just pick up the phone book and use a random finger point to choose the person. You want to go on line read their reviews and histories and pick someone and make sure they are credible sources.
Ideally you want to have two different companies. One that detects the mold and another that comes in and remediates it. So then there's no additional financial incentive for them to find something that may or may not be there.
This is something there are a lot of good people doing great things in this arena.
---
Links for this episode:
Click here to learn more about helmets
Learn more at APEX Brain Centers.com
Read the APEX Brain Centers BLOG
Follow us on Facebook
On Google Plus
Follow APEX Brain Centers on Twitter
And here is the Twitter handle for this podcast: @BrainPodcast365
Visit our YouTube Channel