Podcast: Play in new window | Download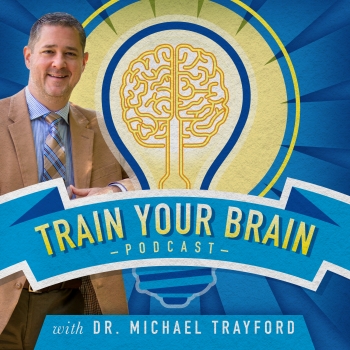 Good morning and welcome to Episode 035 of the Train Your Brain Podcast with Dr. Michael Trayford. Every Monday we produce a 30-minute episode. Tuesday through Sunday we produce episodes with five-minute tips. Every episode of the Train Your Brain Podcast features a tip, so you can receive pointers 365 days a year that will help enhance the performance of your brain!
In Episode 035, Dr. Trayford gives us a tip that puts our daily struggles in perspective. He reminds us to not only prioritize what we want to do but to prioritize what we don't want to do. This means carefully choosing what we choose to act on and purposefully setting expectations for ourselves for what we will not act on. This tip makes for a healthier brain and a happier soul!
If you have any concerns regarding the information and applications discussed in this podcast, please consult your physician and a doctor who is experienced in functional neurology. Michael Trayford DC, DACNB is available for consultation by calling (828) 708-5274. Thanks for listening.
So we have today. Our tip of the day is Pick your Battles. As a husband and parent I'm sure you know a bit about this.
Jason: Oh Yes sir… Yes sir. Another way to say this is Choose which hills you're going to die on or something like that.
That's great! The west coast version of that. Yes.
This is again falling in the category of the obvious. But we really do need to look at this, because most of us do not. Most of us attempt to put out every little fire that presents itself throughout the course of our day, week, month our life. And that can lead to a lot of trouble.
So this essentially falls under the stress management category. And whether its dealing with kids coworkers, bosses, spouses, traffic on and on and on.
We just did a recent podcast on driving safe. Picking your battles on the road is incredibly important. Hopefully picking no battles on the road is your ultimate goal, because we know in this day and age that can get quite dangerous.
Jason: This isn't Mad Max Fury Road or anything.
Exactly! And we know for sure that picking your battles in certain situations is beyond managing stress, or creating stress I should say. It could actually endanger your life. So you really need to be careful, particularly in situations like driving where you do not want to engage with people that could potential become quite aggressive and do you harm.
So I'm talking more about picking your battles in your daily life. Again Coworkers, children, spouses etc…
What's most important?
We need to prioritize not just our goals and objectives and things we want to do. But we also need to prioritize what we don't want to do. So really we had talked previous about a to not do list. That's along the lines of what we're talking about here. And when you're in the heat of the moment or in the heat of an email you don't like or comments somebody made, it's hard to sit back and make sense of it and not respond in haste.
But really we need to do this because ultimately throughout the course of the day I we reflect at the end of the day. What really was important? What really got us to a higher level that day. What caused us to do something that we could be grateful for that day.
And that's really what we should focus on rather than trying to put out every single fire that comes our way. Because most things will essentially work out on their own. We intuitively know it, we just need to put it into application on the spot.
So pick your battles. That's where we're at for today. And I hope you take that tool and put it into your daily life and see some great results with that.
As always if you have any questions or concerns regarding the information we talked about, please consult a doctor versed in functional neurology.
---
Links for this episode:
Learn more at APEX Brain Centers.com
Read the APEX Brain Centers BLOG
Follow us on Facebook
On Google Plus
Follow APEX Brain Centers on Twitter
And here is the Twitter handle for this podcast: @BrainPodcast365
Visit our YouTube Channel