Podcast: Play in new window | Download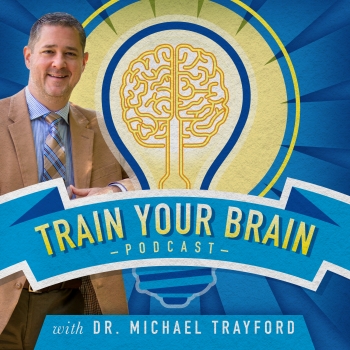 Good morning and welcome to Episode 023 of the Train Your Brain Podcast with Dr. Michael Trayford. Every Monday we produce a 30-minute episode. Tuesday through Sunday we produce episodes with five-minute tips. Every episode of the Train Your Brain Podcast features a tip, so you can receive pointers 365 days a year that will help enhance the performance of your brain!
In Episode 023, Dr. Trayford gives a helpful brain tip for those of us who deal with stress management and difficulty sleeping. White noise-makers are a wonderful tool to help drown out the other noises that might distract us while we are trying to fall asleep. He cautions us against using the TV as our white-noise source, however, as they will engage our minds too much and might make the problem of falling asleep worse. You'll love today's show!
If you have any concerns regarding the information and applications discussed in this podcast, please consult your physician and a doctor who is experienced in functional neurology. Michael Trayford DC, DACNB is available for consultation by calling (828) 708-5274. Thanks for listening.
Quality sleep is a problem in our society. One of the best tools to help you get a good night's sleep is a white noise maker. In the past a lot of people would go to sleep with a fan in the background. Many years ago when television stations went off the air people would fall asleep to the white background noise. In either case it provided people with a blank, consistent white noise that helped drown out things like a neighbor with a barking dog or the sound of a train going by on the railroad tracks.
There are certain sounds that we can't otherwise block out of our environment. For example In the Apex Brain Centers office we have some ambient noise and background sounds. For privacy issues or to help people concentrate on what task they are doing we block out those noises with white noise makers in every room in our office.
In this day and age you can go online and enter search terms like White Noise Makers and you'll find a wide selection available. Most of them are rather inexpensive. While some of them might be as much as $50 you can usually find a good one for around $20.
I actually strongly recommend this over leaving a television on in the background.
In order for you to deal with noises that plague us and impact the quality of our sleep, you need to cover them up. White noise makers are the answer for many people. You want to set your particular unit to a volume that is comfortable. You don't want it to be so loud that it's actually keeping you awake.
A lot of people find these units to be very soothing. This can also help if you sleep in the same room with a spouse or someone that has issues snoring. The white noise can help to drown out some of that sound, so you don't have to get separate sleeping quarters, which is becoming more and more common these days.
---
Links for this episode:
Learn more at APEX Brain Centers.com
Read the APEX Brain Centers BLOG
Follow us on Facebook
On Google Plus
Follow APEX Brain Centers on Twitter
And here is the Twitter handle for this podcast: @BrainPodcast365
Visit our YouTube Channel