Podcast: Play in new window | Download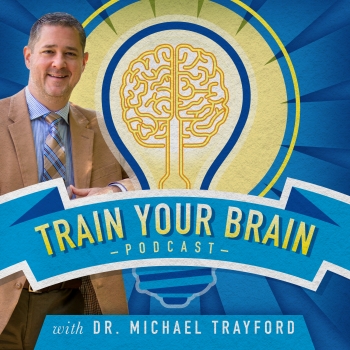 Good morning and welcome to Episode 020 of the Train Your Brain Podcast with Dr. Michael Trayford. Every Monday we produce a 30-minute episode. Tuesday through Sunday we produce episodes with five-minute tips. Every episode of the Train Your Brain Podcast features a tip, so you can receive pointers 365 days a year that will help enhance the performance of your brain!
In Episode 020, Dr. Trayford sets the stage for upcoming brain training tips on the topic of exercise. When it comes to exercise the first step is making the time. He cautions us not to try to find the time. If exercise is a low priority then it probably just won't fit in your busy day. Make an appointment for yourself to exercise – make the time! You'll love today's show!
If you have any concerns regarding the information and applications discussed in this podcast, please consult your physician and a doctor who is experienced in functional neurology. Michael Trayford DC, DACNB is available for consultation by calling (828) 708-5274. Thanks for listening.
Jason: I've never been anyone's co-pilot before.
Well I do have aspirations to fly one day, so maybe one day when I start flying I'll come over to Utah and pick you up.
Jason: Okay, I'll do it! Let's go!
Today's tip… Tip number 20 is about exercise. There's many things to talk about in regard to exercise, but today we're talking about really the most important point, and a really good starting point is simply make the time don't find the time.
Most people are just kind of trucking through their day, just trying to get through their to-do list and get their kids from school and get every task they need to done at work. And hopefully have some time to maybe go to the gym or do something like that, after that maybe spend time with friends.
The bottom line is that for many, many people, I don't even know the statistics. But I know full well that… You hear these statistics about gyms and how many memberships they sell, but how many people actually go to the gym. They sell those memberships, and it's something like 25% of the people that actually buy the membership actually go.
That's probably a lot of people that go regularly and use the gym with good intentions. You know January comes around and everybody gets their gym memberships and by mid January or February, those people aren't going anymore. You know 75% or so… We'll just put that number on it. I know it's pretty dramatic number.
Jason: I make it to like January Third, Dr. Trayford!
Well that's better than some. There are some people that simply put the money down and never go. We have to make the time. I talk to people about this all the time. Just the mindset of making the time, instead of finding the time.
Like you would schedule an office meeting every Monday at whatever time you have that office meeting. You schedule it like you would picking up your kids at the same time every day.
I know you have kids and kids get in the way of life in the very best way possible. But they do create challenges and there are many folks that have kids and two to three, four, five kids… That still make the time to exercise. They incorporate their children into the exercise.
So we do that type of thing with our kids to much resistance, but we do try to get them out there and to get to the park, walk and run, get on bikes and rollerblades and all that kind of activities. So that they understand and live and active, healthy lifestyle; so that it's just part of their makeup.
So they will hopefully pass that on to their children. So we need to make the time to exercise. Because if we try to find it, the day will get by us and we will be sitting there worrying about our waistline and worrying about our brains and everything else that essentially suffers as a result of us not moving or exercising the way we should.
So that sums it up for the day.
---
Links for this episode:
Learn more at APEX Brain Centers.com
Read the APEX Brain Centers BLOG
Follow us on Facebook
On Google Plus
Follow APEX Brain Centers on Twitter
And here is the Twitter handle for this podcast: @BrainPodcast365
Visit our YouTube Channel